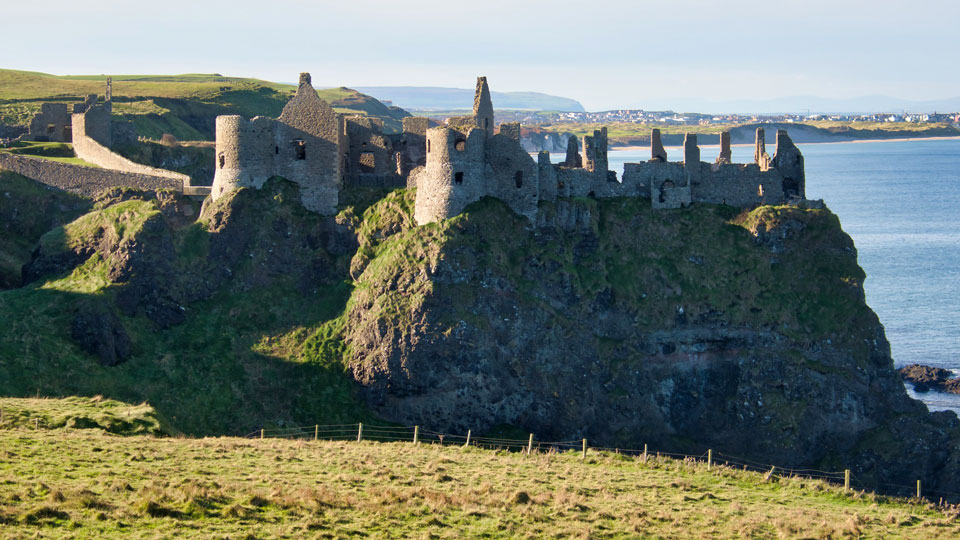 Dunluce Castle is a medieval Irish castle ruin in County Antrim, Northern Ireland. It lies on an outcropping connected to the mainland by footbridge. It was the seat of the Earls of Antrim until the impoverishment of Clan MacDonnell following their defeat at the Battle of Boyne in 1690.
The earliest castle was built in the 13th century by Richard de Burgh, the second Earl of Ulster, on the site of an earlier Viking fort. Enlarged by the Irish MacQuillan family around 1500, it was seized by the Scottish Clan MacDonnell during the tumultuous 1550s and became their family seat.
The MacDonnells enlarged the castle in what is known as the Scottish style in 1584, and developed a a small plantation style settlement, Dunluce Town, in 1608. They brought Scottish settlers over to populate the town.
What to See at the Site
Dunluce Castle 
Wander around the ruins. Enjoy the spectacular views overlooking the sea.
Dunluce Town  Explore the findings from archaeological excavations of the 17th century plantation era settlement.
Mermaid's Cave Take the stairs down to Mermaid's Cave, a natural feature inside the outcropping on which the castle sits.
Something Special to do Here
Turn your visit into an all day adventure. Pack a picnic lunch and walk the 3 miles (5 kilometers) from Portrush along the Coastal Walk. You can catch a bus back to town if you don't feel like hoofing it both ways.
Attraction Details
Address:
87 Dunluce Road
Bushmills, County Antrim BT57 8UY
Northern Ireland
Hours of Operation:
Open all year round
10:00-17:00 Daily
Closed 25,26 December
Last entry 16:30, strictly observed
How to get there:
On Foot  Three miles (5 Kilometers) from Portrush along the
By Car  Less than one hour by road from Londonderry via the A37 andA2. Just 15 minutes from Coleraine via the A2.
By Bus  Many local buses stop at this major site. Check in Coleraine for the most convenient route.
By Rail  The Belfast-Derry railway line run by Northern Ireland Railways connects to Coleraine along the branch line to Portrush. Local Ulsterbus provide connections to the railway stations.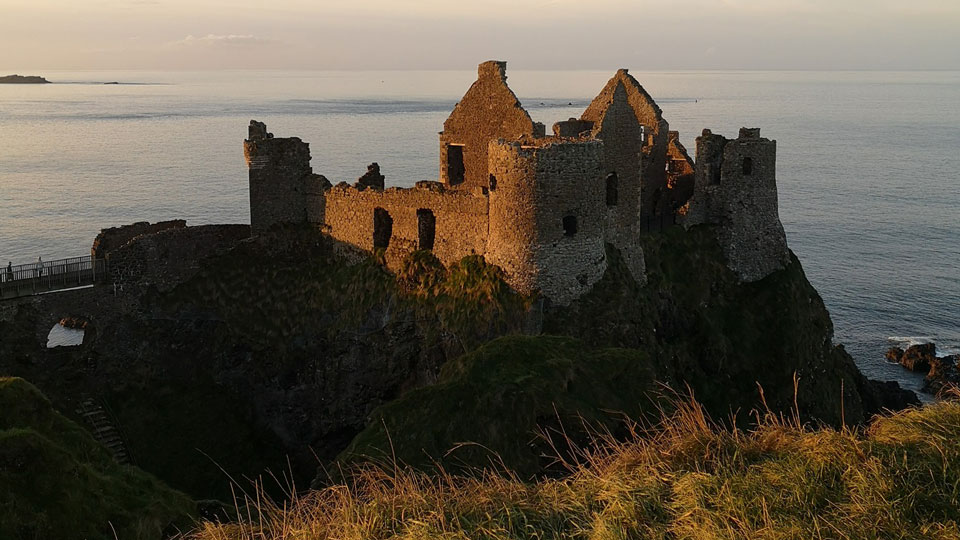 Learn more about the UNESCO World Heritage List
Check out our UNESCO World Heritage index page for the latest full list of sites, complete with links to our dedicated destination pages.
Only interested in the most important sights? Choose from the Faber Dozen: UNESCO World Heritage Edition to see our fifteen best ideas for an unforgettable trip.
Just Browsing? Go back to the narangah Travel home page to uncover a wealth of travel information about destinations near and far. Imagine yourself there, and let us take you exploring around the world!