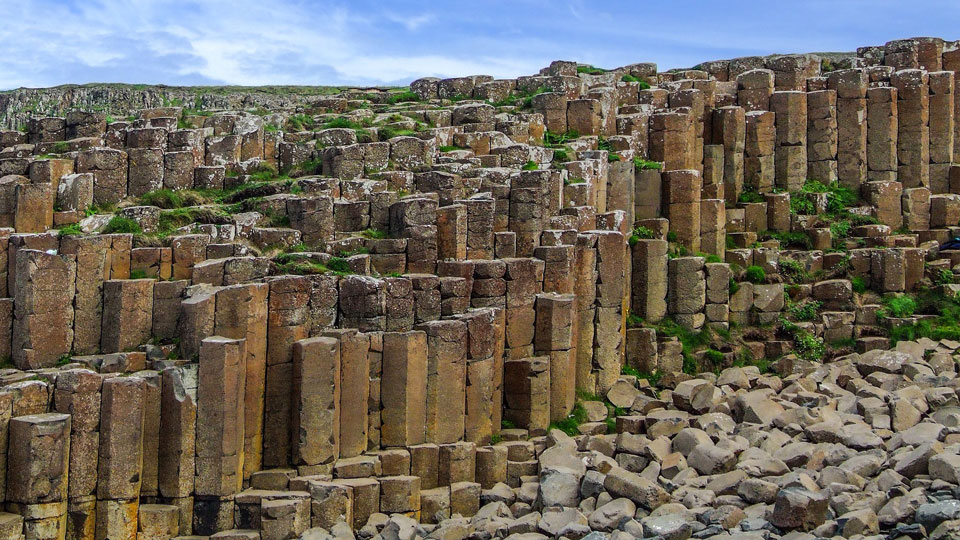 Giant's Causeway is the centerpiece of the Giant's Causeway and Causeway Coast UNESCO World Heritage Site. It has drawn the curious for over 300 years, and is one of the most popular tourist attractions in Northern Ireland. Formed over 50 million years ago, the exposed basalt columns present a dramatic landscape with raging north Atlantic waves crashing against the rocks. Over one million people annually come to take it in. A new visitors center and interpretive display, operated by the National Trust, opened in 2012.
What to See at Giant's Causeway
Here is a list of highlights around the Giant's Causeway. A good way to see them is by guided tour, complete with legends and other unique stories about the area.
Grand Causeway  The Grand Causeway is the largest of three rock outcrops which make up the Giant's Causeway. These collections of curious basalt columns contributed to the causeway being designated Northern Ireland's only UNESCO World Heritage Site in 1986.
Giant's Boot  According to legend, the Irish giant Finn MacCool lost his boot fleeing the Scottish Giant Bernandonner. Measuring over 2 meters in length, it is reported to be a size 93 1/2. One of the most famous attractions at Giant's Causeway.
Wishing Chair  A natural throne formed perfectly out of basalt columns. Well worn and comfortable. Have a sit!
The Camel's Hump  According to legend, Finn McCool's camel turned to stone and can be found lying at the bottom of the cliffs.
Shepherd's Steps  162 steep steps joining the clifftop to the causeway below. Not for the faint of heart.
Chimney Stacks  Impressive freestanding columns.
Giant's Harp  A beautiful wall of curved basalt columns in the shape of a harp.
Honeycomb  One of the most impressive outcroppings, whose octagonal blocks resemble honeycomb cells.
Pipe Organ A wall of basalt columns resembling a ginat-sized pipe organ.
Giant's Causeway Visitor Centre  An award winning building housing informative exhibits found at the entrance to the site. Admission charge.
Flora and Fauna  The Giant's Causeway is a seabird paradise where you can observe fulmar, petrel, cormorant, shag, redshank, guillemot and razorbill. The columns host a variety of sea plants, too, such as sea spleenwort, trefoil, vernal squill, sea fescue and frog orchid.
Giant's Causeway Walking Trails
Blue Trail  The busiest of the local trails, taking a direct route from the Visitors Centre to the rock formations. Ends at Giant's Boot. (easy, .8 mi./1.2 km., 25 minutes) Downloadable MAP
Green Trail Accessible and child friendly clifftop walking trail with views of the stones from Great Stookan. (moderate, 90 minutes, 2.0mi./3.2 km.) Downloadable MAP
Red Trail Clifftop walk offering spectacular views of the Causeway Coast and the North Channel from viewpoints at Weir Snout, the Aird, the Shepherd's Steps and Hamilton Seat. (moderate, 0.8-2.0 mi./1.2-3.2 km., 30-90 minutes) Downloadable MAP
Yellow Trail Follow the cliff top from Runkerry Head to Hamilton's Seat. (challenging, 1.8 mi./2.9 km., 30-40 minutes) Downloadable MAP
Something Special to do Here
Try the Giant's Causeway Clifftop Experience, a 5 mile guided walk taking in spectacular off-the-beaten-path views of the famous rocks. Discover the impressive variety of flora and fauna. Hear amazing stories from professional guides and explore the Visitors Experience at the Visitor Center.
Attraction Details
Contact Details:
Giant's Causeway – National Trust
44 Causeway Road
Bushmills, County Antrim BT57 8SU
Northern Ireland
Tel +44 (0) 28 2073 1855
Hours of Operation:
Stones and coastal path open daily from dawn until dusk.
Check the website for Visitor Centre hours.
Closed 24, 25 and 26 December.
Last admission to Visitor Centre is one hour before closing.
Getting there:
On Foot Via the Causeway Coast Way, a breathtaking 33 mi. (53 km.) stretch of Ireland's most celebrated coastline. This route links to the Giant's Causeway trail network.
By Cycle Route 93 of the National Cycle Network in Northern Ireland runs round the coast from Newry to Ballycastle via Bangor and Belfast. Visitors travelling this way receive a 'green discount' at admission to Visitor Centre.
By Car The Giant's Causeway and Visitor Centre is located on the B147 Causeway road. It is 2 miles from Bushmills village, 11 miles from Coleraine and 13 miles from Ballycastle.
By Bus Regular services available, some are seasonal. Ulsterbus Service 172; Goldline Service 221; Causeway Rambler Service 402; Open Top Causeway Coast Service 177; Antrim Coaster Service 252.
By Train The Belfast-Derry railway line run by Northern Ireland Railways connects to Coleraine and along the Coleraine-Portrush branch line to Portrush. Locally, Ulsterbus provides connections to the railway stations. There is a scenic walk of 7 miles from Portrush alongside Dunluce Castle and the Giant's Causeway and Bushmills Railway.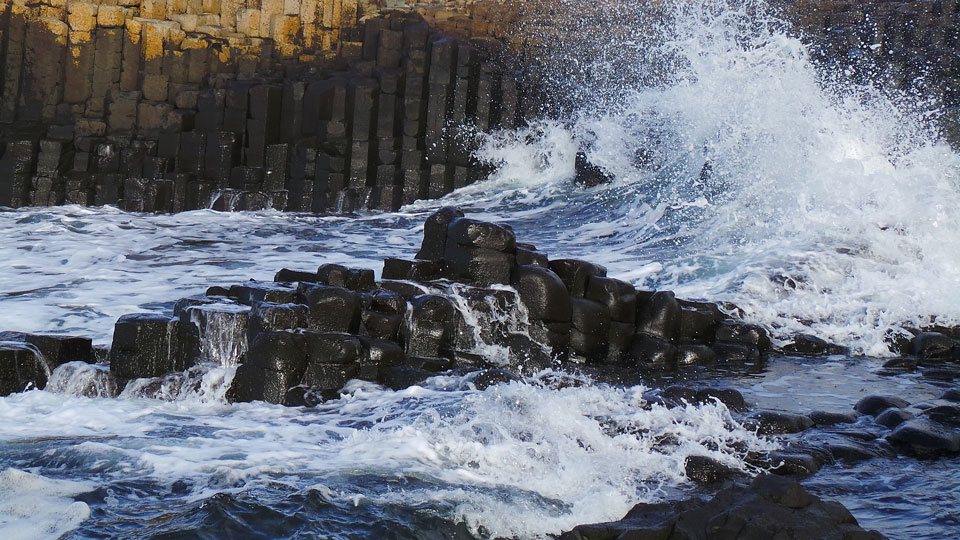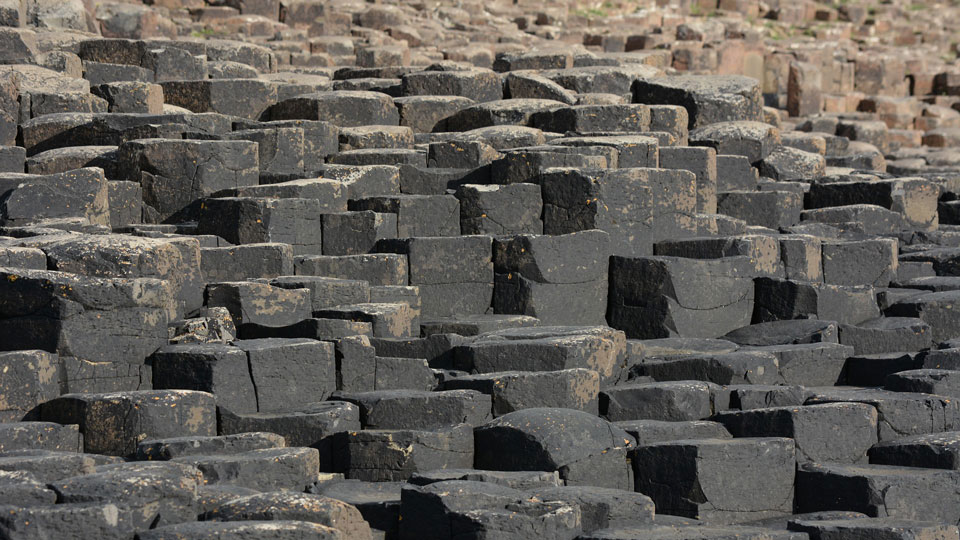 Dunluce Castle | Medieval Irish Castle Ruin
Visit this dramatic clifftop ruin overlooking the sea.
Dunluce Castle is a medieval Irish castle ruin in County Antrim, Northern Ireland. It lies on an outcropping connected to the mainland by footbridge. It was the seat of the Earls of Antrim until the impoverishment of Clan MacDonnell following their defeat at the Battle of Boyne in 1690. The earliest castle was built in [...]
Planning to visit Northern Ireland?
Check out our Northern Ireland travel destination page for all your information needs, including news, ideas, advice, and links.
Only interested in the most important sights? Choose from the Faber Dozen, our fifteen best ideas for a memorable visit.
Just Browsing? Go back to the narangah Travel home page to uncover a wealth of travel information about destinations near and far. Imagine yourself there, and let us take you exploring around the world!
Explore all the Counties of Northern Ireland
Although these historic counties are no longer used for local governing purposes, they still carry considerable weight in popular use and identification. "The six counties" is a popular name for Northern Ireland favored by Irish Nationalists.
County Antrim  County Armagh  County Down  County Fermanagh  County Londonderry  County Tyrone.