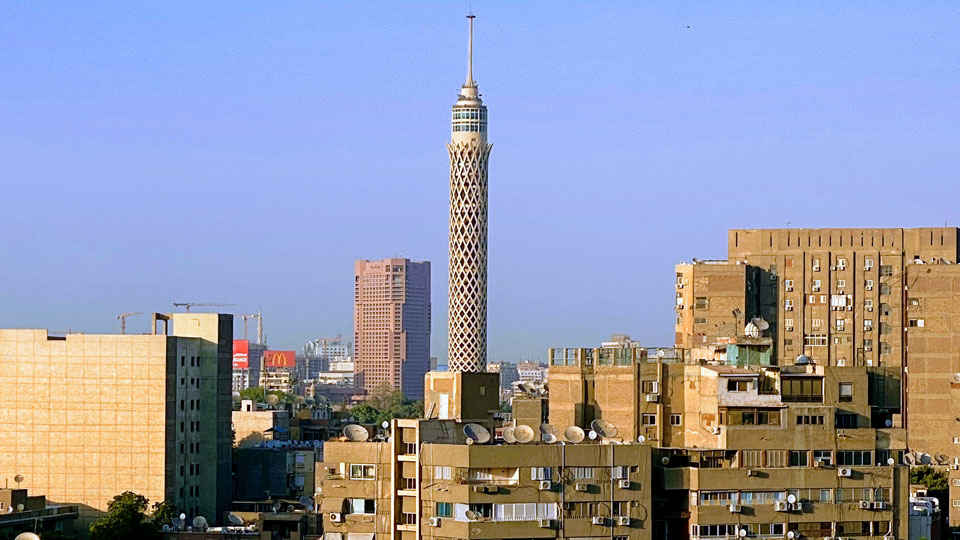 Cairo Tower (Arabic: Brag El qahari) is among the tallest structures in Egypt and North Africa. Rising 187 meters (614 feet) on Gezira Island in the River Nile, it is one of the most prominent landmarks in central Cairo.
Completed in 1961, the tower has become a popular tourist attraction and one of the most well known structures in Egypt. Following a recent renovation, the tower is illuminated at night in different colors for the enjoyment of visitors to the capital.
The tower is topped by an observation deck and revolving restaurant which offer panoramic views over the greater Cairo area.
Design and Materials of Cairo Tower
The open lattice design of Cairo Tower is reminiscent of the lotus plant, an important symbol of ancient Egypt. The foundation is made from the same Aswan granite used in ancient monuments and temples.
How Paying for the Tower became a Subtle Rebuke to the Americans
When the American CIA reportedly tried to bribe Egyptian President Gamal Abdel Nasser into turning his back towards Algerian revolutionaries, he pointedly refused. Instead keeping the money for himself, Nasser reportedly turned the whole sum over to the Egyptian government for use in building Cairo Tower.
How big is Cairo Tower?
Cairo Tower is 614 feet (187 meters) tall. When it was completed in 1961 it was the largest structure in Africa.
It was surpassed in 1971 by the Hillbrow Tower in Johannesburg, South Africa, but remained the largest in north Africa and Egypt for many years after that. There are now many taller buildings and structures, but none more distinctive or accessible than Cairo Tower for enjoyment by tourists.
Can I visit Cairo Tower?
Cairo Tower is open to the public from 0900 to 0100. The entrance fee is LE 25 ($1.40 US) for Egyptians and LE 150 ($7.00 US) for foreigners.
Can you see the pyramids from Cairo Tower?
Yes. Cairo Tower offers panoramic views over greater Cairo, including the Saladin Citadel, the Great Pyramids of Giza, Ancient Saqqara and more! Its central location on Gezira Island in the River Nile affords 360 degree views to delight visitors from around the world.
There are telescopes on the observation platform that make it even easier to spy out your favorite sights around Cairo.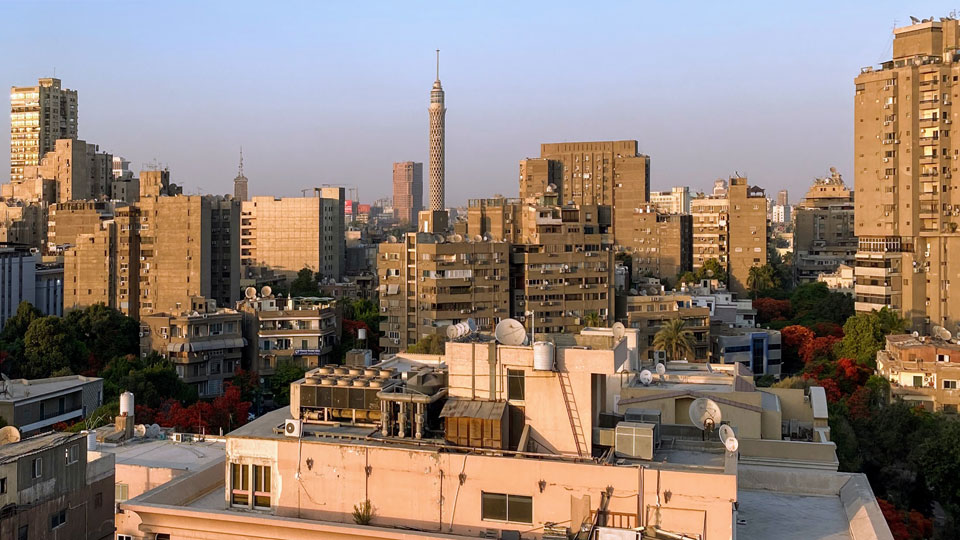 Planning to visit Egypt?
Visit our Egypt free travel guide for all your information needs, including news, ideas, advice, and links.
Just Browsing? Go back to the narangah Travel home page to uncover a wealth of travel information about destinations near and far. Imagine yourself there, and let us take you exploring around the world!