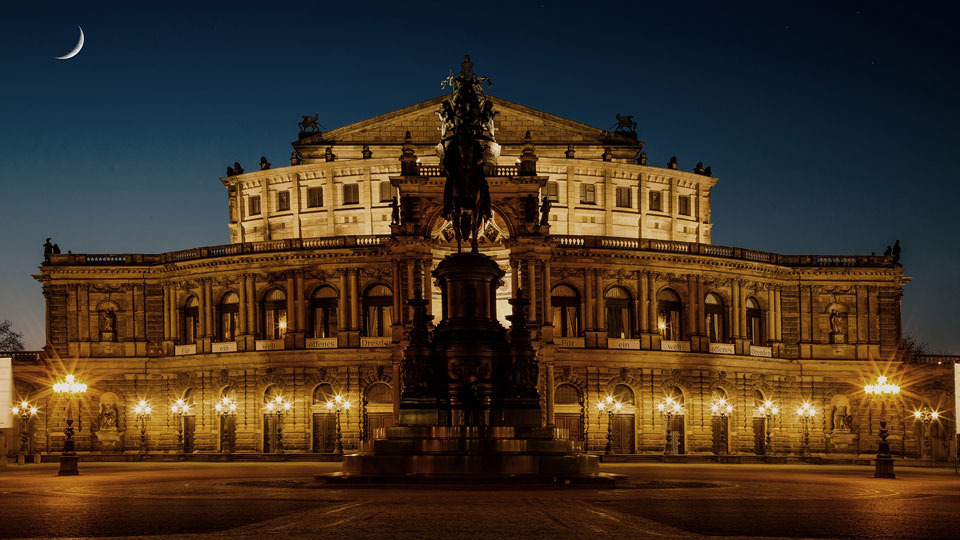 The Semper Opera House, or Semperoper in German, is the state opera house in Dresden, the capital of the German state of Saxony. It is home to the Saxon State Opera, the Saxon State Orchestra, and the Semper Opera Ballet. The Semperoper has hosted premiers of works by Richard Wagner, Richard Strauss, and many other notable composers.
The original opera house was built on the site in 1841 by the influential architect Gottfried Semper, but was destroyed by fire in 1868. Rebuilding it took 10 years. The new structure was destroyed again during the 1944 Dresden firebombing. Reconstruction of the current building was completed in 1985.
What to See at the Semper Opera House
Architecture The Semperoper is considered a fine example of Dresden Baroque architecture.
Roof Ornament A Panther Quadriga and statue of Dionysos adorn the roof.
Five Minute Clock A unique timepiece displaying the hours in Roman numerals and the minutes in Arabic numbers.
Seashell Ornamentation Artistic embellishments that enhance the acoustics of the hall.
Something Special to do Here
Book a tour of the Semper Opera House. There are many variations available, including small and large group tours, VIP Tours, and combined Opera and Old Town tours. Special arrangements can be made for children, students and company outings.
How to get to the Semper Opera House
Address:
Theaterplatz 2
01067 Dresden
Germany
Phone +49 351 4911 705
Fax +49 351 4911 700
E-mail bestellung@semperoper.de
Local Transportation:
Tram Nos. 1, 2, 4, 11, 12 and Bus Nos. 75 to Postplatz
Hours of Operation:
Mon to Fri 10:00-13:00
Closed on Saturdays, Sundays and public holidays.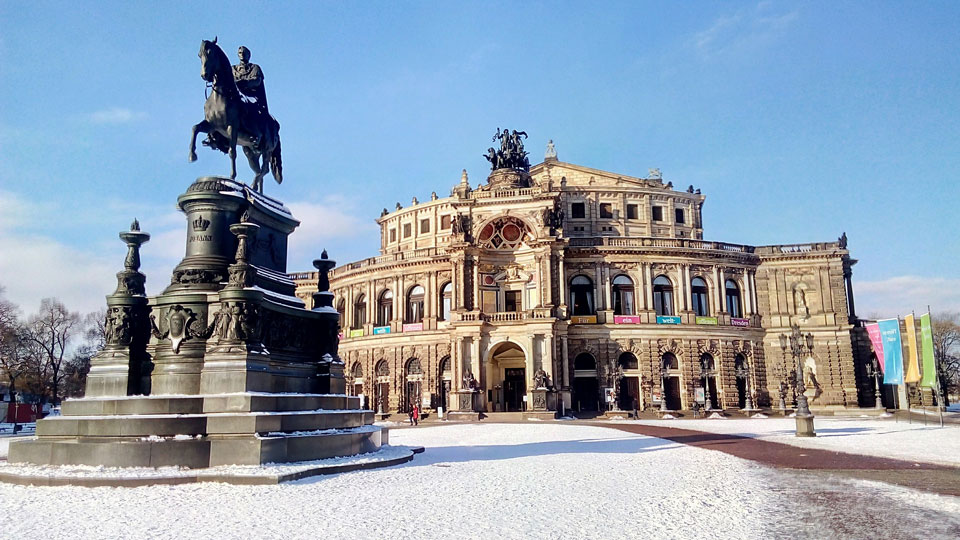 Planning to visit Germany?
Check out our Germany travel destination page for all your information needs, including news, ideas, advice, and links.
Only interested in the most important sights? Choose from the Faber Dozen, our fifteen best ideas for a memorable visit.
Just Browsing? Go back to the narangah Travel home page to uncover a wealth of travel information about destinations near and far. Imagine yourself there, and let us take you exploring around the world!
Explore all 16 German States
Baden-Württemberg  Bavaria  Berlin  Brandenburg  Bremen  Hamburg  Hesse Lower Saxony  Mecklenburg-Vorpommern North Rhine-Westphalia Rhineland-Palatinate  Saarland  Saxony Saxony-Anhalt Schleswig-Holstein  Thuringia